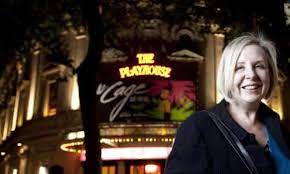 In conversation with Lyn Gardner not gave us an insight into Gardner's key moments in her life as a theatre critic, but also delved into important topics such as gender, race, and the changes she has seen throughout her life. She also mentioned how she sees us to be heading towards a positive future that she is hopeful will come.  
Lyn began by discussing her early life to when she was in school, creating plays with tin foil and tealights, to hearing how her strong admiration for theatre has led to her watching 5 plays a week for the past 30 years of her life. As a viewer, I gathered a strong and powerful insight into how Lyn got to where she is today.  
A conversation that stood out the most was when Lyn was asked if emotion should play a part in theatre reviewing. Lyn beautifully explained that theatre is not entirely cerebral, and whenever she reviews a great standout play, it is like falling in love again like a huge wave of hormones. It is clear Lyn has a deep passion for what she does, which is fascinating as it makes you want to have that same passion for the job you choose to do in the future.  
I highly recommend finding the time to read reviews and plays that Lyn Gardner has made, to get a true portrayal of how a critic writes effectively. I will definitely be keeping up with what Lyn Gardner is doing. 
Ethan Stirland.