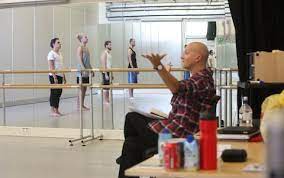 On today's agenda was attending a dance class. Unsurprisingly, as a writer and not a dancer and I did awfully. However, I had an amazing time! My lovely friend Jess dragged me along to this workshop, where we met the wonderful, welcoming Mark Smith. Mark Smith is a deaf dancer, who incorporates sign language in his work to create a beautiful art form. A lot of the other people there were of course, dance students, so we felt like outsiders. The atmosphere was so welcoming, however, and non-judgemental though, as awful as I was, because at one point I decided "Okay, let's just spin a lot?".
Everyone cheered each other on and was so supportive. Mark was absolutely wonderful, letting people learn and take things at their own pace, not rushing anyone. He brought life to the workshop. I'm genuinely so happy I went, as this has inspired me to take up more forms of dance, no matter how bad I am, it is ridiculously good fun. I really recommend looking up performances from his group, Deaf Man Dancing, as his dancing is beautiful and inspiring. I came away from today's session with a new enjoyment, and more knowledge on things like sign language and how he uses bass and vibrations in order to create dances.
I would love it for him to come back to DMU at some point to run more workshops like this, no matter how terrible I might be at dancing, I would definitely be attending!